ATTENTION BLOGGERS, AFFILIATE MARKETERS, & DIGITAL MARKETERS
REMOVE THE GUESSWORK OUT OF EMAIL MARKETING, BUILD A ROCK-SOLID RELATIONSHIP WITH YOUR SUBSCRIBERS, & INSTANTLY TURN THEM INTO RAVING CUSTOMERS WITH OUR COLLECTION OF PROVEN TO CONVERT EMAIL AUTORESPONDER SWIPES
3500+ PLUG & PLAY AUTORESPONDER EMAIL SWIPES THAT ARE 100% CONVERSION-FOCUSED
Note: All the Email Swipes are 100% Customizable
All you need to do is select a swipe, tweak it as required, insert your affiliate link & plug the content into your email autoresponder tool. It's that simple!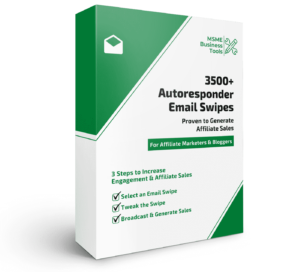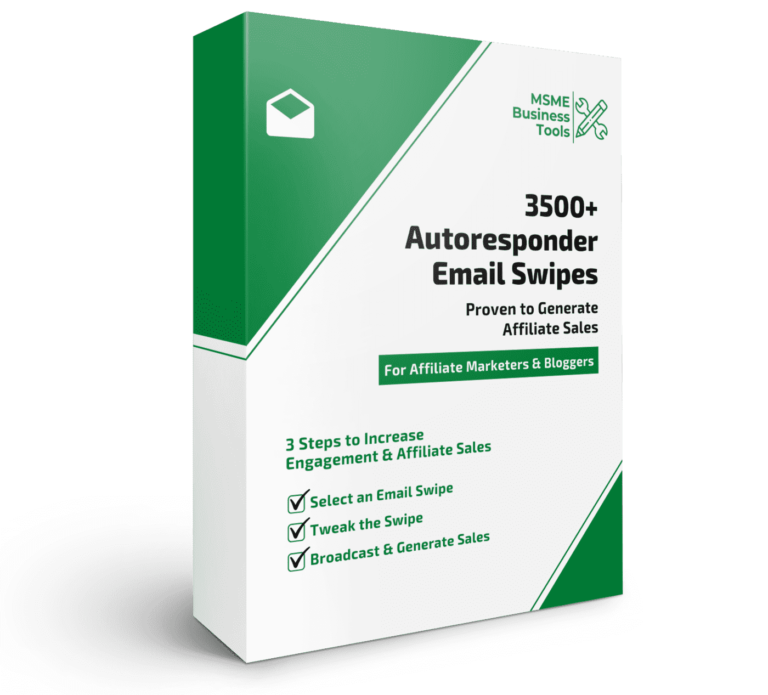 TAKE YOUR LIST NURTURING & SELLING GAME TO GOD MODE
(₹ 9999 – 95% OFF for Limited Time)
Dear Bloggers & Affiliate Marketers,
If you think that "money is in the list", you couldn't be more wrong.
Anyone can dish out a lead magnet, turn on ads, & generate a sizeable list.
BUT.. what you do after generating the list is what really counts!!
MONEY, therefore, IS NOT IN THE LIST, but rather in the relationship with the list.
A small, responsive list > A mega-sized unresponsive list.
What's the point in flooding your business with leads if you cannot nurture & establish a relationship with them?
Makes sense, right?
You need a TON of great copy to keep your online business sustainable, profitable & scalable…
You require NOT JUST "well-written" & grammatically correct emailers, but also emails that persuade your audience, keeps them hooked, tells them a story, generate trust – that's only the tip of the email iceberg.
But there are two big problems:
You can't do it all yourself. A day consists of only 24 hours. You could produce boatloads of emails every day & still not have enough. You certainly won't have time to do anything else if you just sat & wrote emails the entire day. Right?
Hiring a quality copywriter is FREAKIN expensive. Have you hired any Copywriters recently? Good copy is bloody expensive. It can be worth the dollars spent, but maybe you just don't have that kind of financial power & budget at the moment, or maybe you don't want to drain yourself by wasting days altogether hunting for good copywriters amidst the sea of mediocre talent the outsourcing sites are awash with?
It's pathetic. And you may feel like you'll have to settle for mediocre copy that rarely converts, which means growing your business slowly & procrastinating on achieving your online business goals.
All this is now going to change because…
You Can Get Lifetime Access to 3500+ Proven To Convert Autoresponder Email Swipes That Keep Your Subscribers Engaged, Command Clicks & Generate Sales Like Clockwork
🧲 Years worth of Quality Content for your Emails
🧲 Use it either for Email Broadcasts or as a follow up sequence
🧲 Increase email open rates & click-through rates (CTRs)
🧲 Grab Subscriber's Attention, Interest, & Get them ready to buy
🧲 No more pressure, writer's block, or anxiety
🧲 Set up autoresponder campaigns in < 15 mins
🧲Keep your subscribers hooked & happy
🧲 No more emails your audience hates
🧲 No more wasting time on writing emails
🧲 Plug & play templates
YOU CAN USE IT JUST ABOUT ANY WAY YOU WANT!
(Your imagination is the only limit)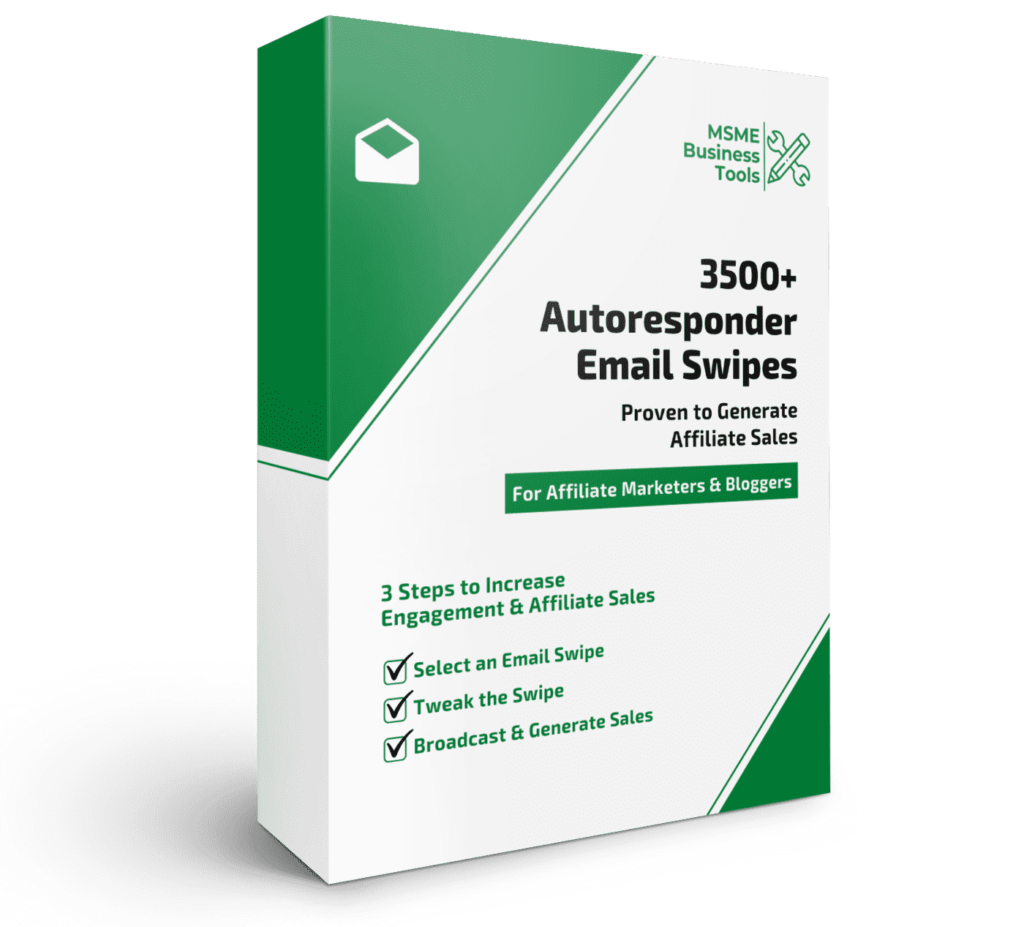 Scale your Affiliate Marketing Business
WHAT IS INCLUDED IN THIE MEGA COLLECTION?
📌 3500+ high-quality, conversion-focused email swipes that virtually guarantee clicks, leads, sales, & profits.
📌 Email swipes covering every possible topic in the Affiliate Marketing & Make Money Online niches.
📌 Instant & Lifetime Access.
📌 High-quality exclusive bonuses (worth ₹ 10,594)
High-Valued Exclusive Bonuses
Bonus #1: 300+ Prewritten Relationship Building Emails – Worth ₹ 3999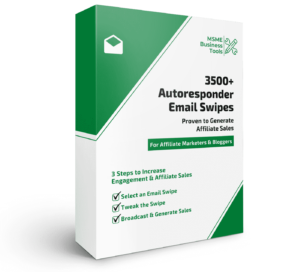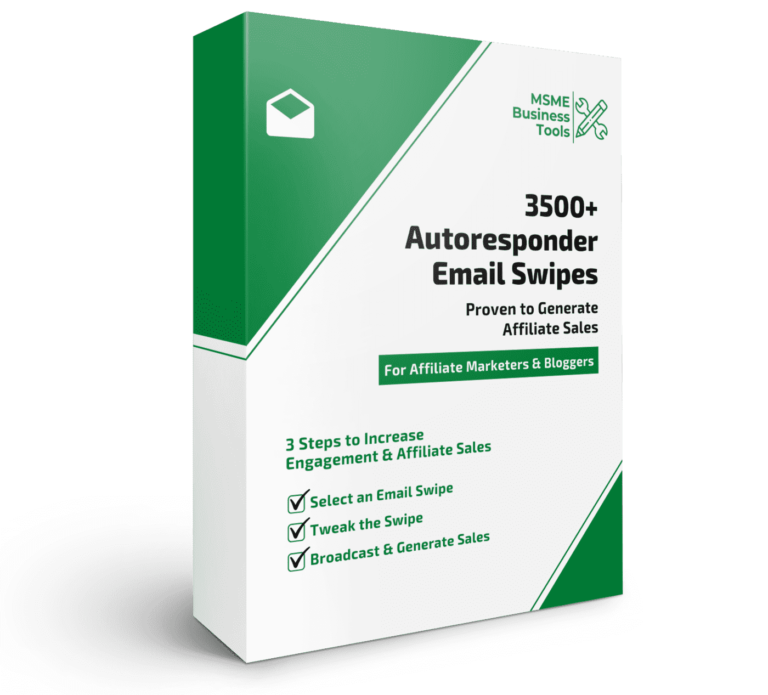 These emails are different from those you get as part of the 3500+ email swipes. These are more focused on building relationships with your subscribers through an ordered sequence as opposed to different offers.
Ordered sequence emails are great because your subscribers will be encouraged to wait for the next part to come after they read the emails.
Bonus #2: 200+ Prewritten Niche Based Emails – Worth ₹ 2999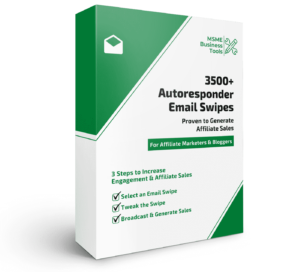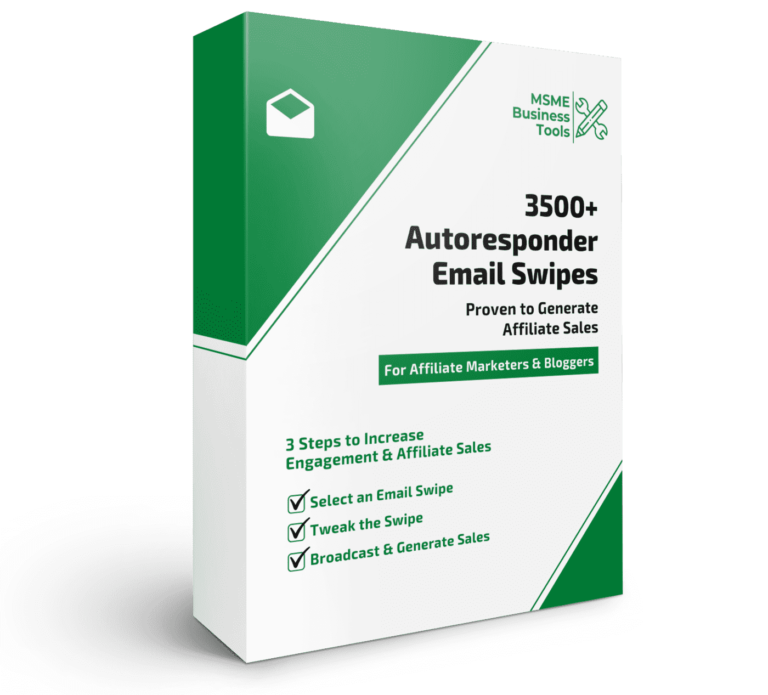 As an additional time-sensitive bonus, get access to 200+ prewritten niche based emails that help you supercharge your email campaigns.
You find ready to use emails related these niches: AdSense, Affiliate Program Marketing, List Building, Article Writing, Autoresponders, blogging, eBook creation, General Internet Marketing, Keywords & SEO, Online video making, PPC Search Engine, etc. Use them as it is as a whole, split it up into multiple pieces, or rewrite it as you see fit.
Bonus #3: 150+ Proven Plug & Play Email Templates – Worth ₹ 1499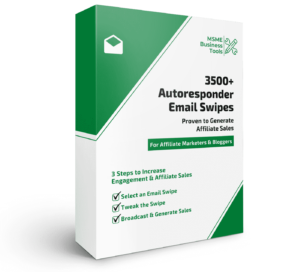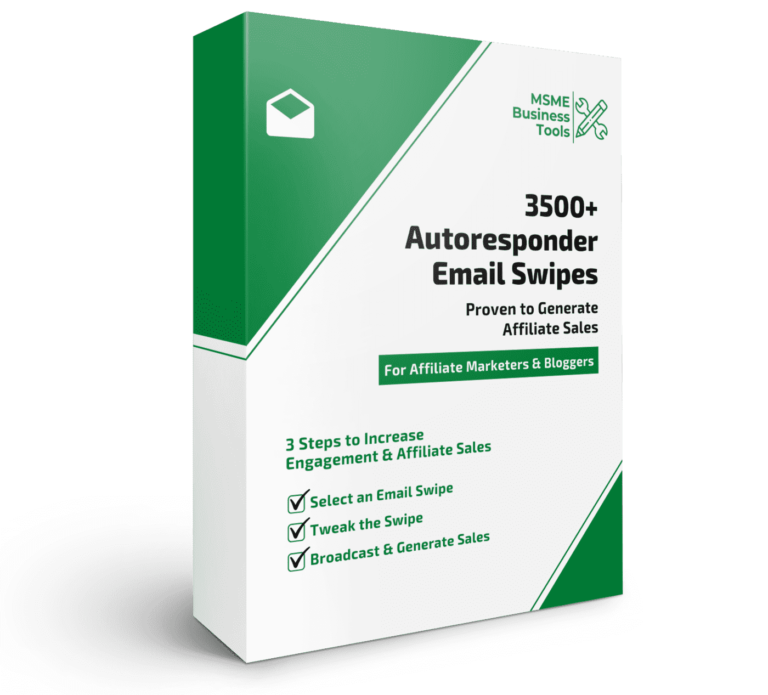 This affiliates exclusive bonus comes with 150+ Proven Plug & Play Email Templates (not to confuse with swipes). Just fill in the blanks or replace the text and you are good to include them as part of your autoresponder emails.
The emails cover these niches: Basic Affiliate Promo, Blogging, Classic Welcome Sequence, CPA Marketing, DFY Service Templates, Educational, Educational Welcome, E-mail Marketing, Free Trial Re-Engagement, Launch with Content, Message Product Launch, Onboarding Welcome, PLR Products, Re-engagement offer, Upsell High Ticket Webinar, Upsell to the next offer, Video Based Launch, Warm Audience Launch, WordPress Plugins, Branding templates, MMO Niche Short Templates, etc.
Bonus #4: Latest Email Marketing – Training Guide (eBook) – Worth ₹ 999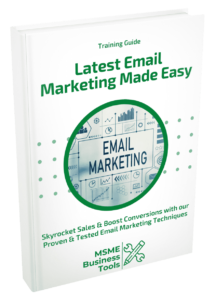 Take your blogging & affiliate marketing business to the next level with the best use of Latest Email Marketing DFY Business Training Guide.
This step-by-step training guide will take you by the hand and teach you how to create engaging and profitable email marketing campaigns & boost leads, sales and profits.
With its proper use, you can learn alternative Email marketing methods that make instant money. And, MOST IMPORTANTLY, You'll discover advanced Email Marketing Tips and Tricks to boost sales and profits.
Bonus #5: Black Friday Email Sequences – Worth ₹ 799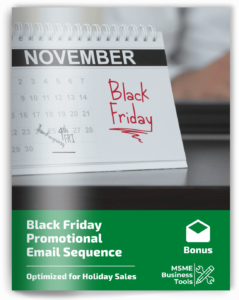 This email template is designed to help you have a HUGELY successful Black Friday and Cyber Monday promotional campaign. Just fill in the blanks, then paste it into your favorite email autoresponder system. And you're done!
It's written by our top copywriter who has worked on multi-million dollar coaching funnels.
You get a 5-day email sequence that is optimized for sales over the Black Friday and Cyber Monday holiday weekend.
Each email in this series builds urgency and entices the click so you can convert your leads into happy customers.
And it's yours to use as your own.
Bonus #5: Black Friday Email Sequences – Worth ₹ 799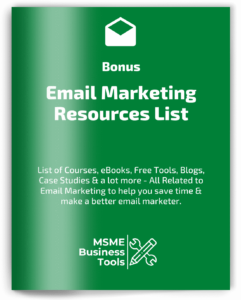 This list helps you save 100s of hours by providing with almost all the email marketing resources you would need to make you an expert. It includes list of email marketing blogs, eBooks, free and paid course details, information on free email tools, and a lot more.
With the main product (Autoresponder Email Swipes) and these six bonuses, there is no looking back. Implementation is the what you need to focus on to skyrocket your affiliate sales.
(₹ 9999/- – 95% OFF for Limited Time)
This is Why Customers Love "Autoresponder Email Swipes"
Comes with Lifetime License
In a nutshell, even with just ONE sale from one of the email swipes, this amazing collection of 3500+ Autoresponder email swipes could easily net you 100 & 1000s of rupees in revenue which makes this offer easily worth ₹ 9,999 or more.
BUT… YOU DON'T HAVE TO PAY THAT MUCH TODAY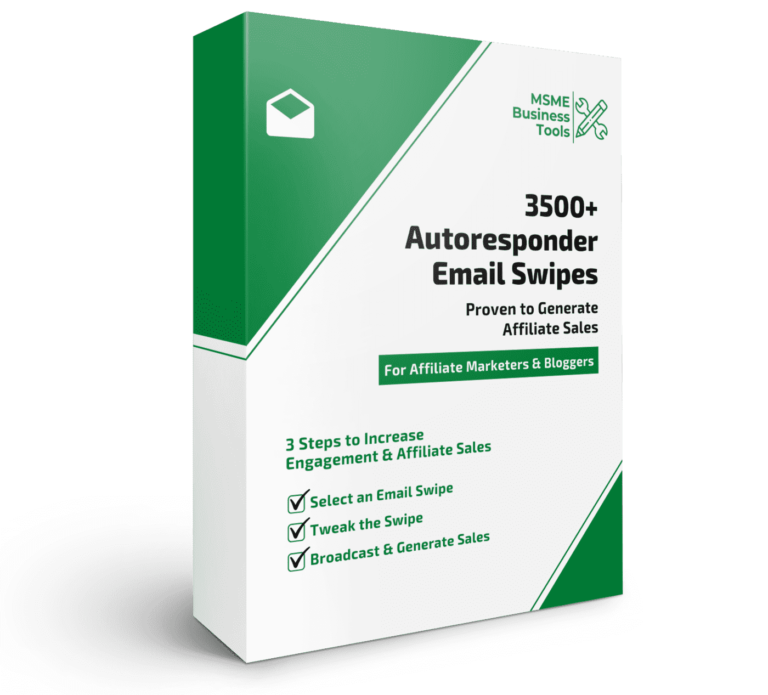 TOTAL VALUE: ₹ 9999 + Bonuses worth ₹ 10,594
Here's a Quick Recap of What you're Going to get Today
✔3500+ Proven To Convert Autoresponder Email Swipes (Worth ₹ 9999 )
✔ Bonus #1: 300+ Prewritten Relationship Building Emails – Worth ₹ 3999
✔ Bonus #2: 200+ Prewritten Niche Based Emails – Worth ₹ 2999
✔ Bonus #3: 150+ Proven Plug & Play Email Templates – Worth ₹ 1499
✔ Bonus #4: Latest Email Marketing – Training Guide (eBook) – ₹ INR 999
✔ Bonus #5: Black Friday Email Sequences – Worth ₹ 799
✔ Bonus #6: Email Marketing Resources List – Worth ₹ 299
So that's a total of ₹ 20,593 rupees. But guess what. You don't have to pay that much today.
Get The Autoresponder Email Swipes (+ all the bonuses) For Just ₹20593 ₹499
[A Small One Time Payment]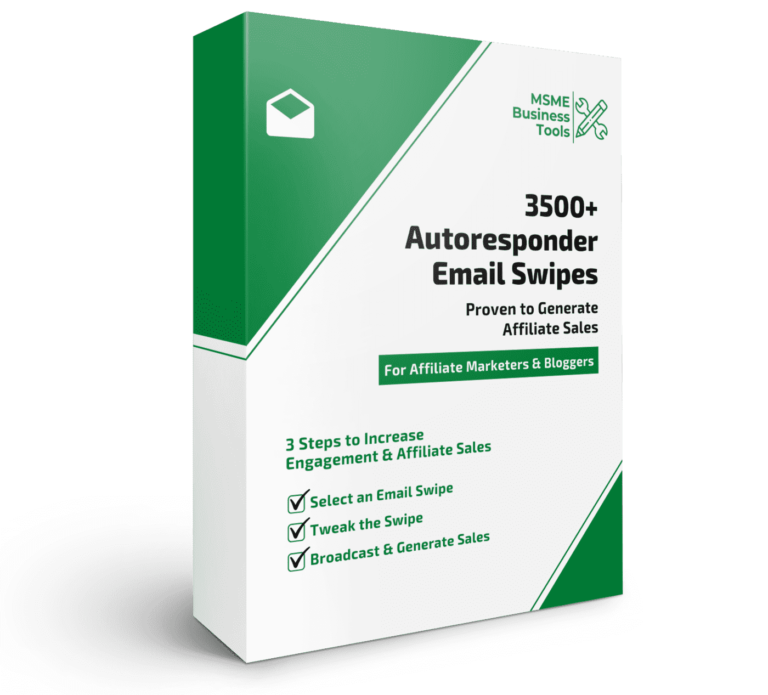 Add Your Heading Text Here
Swipe file is a collection of marketing material (usually sales letters, emails, headlines, ads, etc) that are conversion-focused & is used as a reference for marketing campaigns.
A BIG FAT YES. It is a collection of winning emails from the top affiliate marketers across the planet. All the email swipes are well-researched, professionally written, & conversion-focused. All the Email Swipes are 100% customizable.
No, it won't be a problem at all. Each user generally tweaks the email swipe according to his/her business. So the question of plagiarism & redundancy is completely ruled out.
Check the below screenshots (zoom in for clarity) where two of the well known affiliate marketers have used the same content in their affiliate promotion mails.